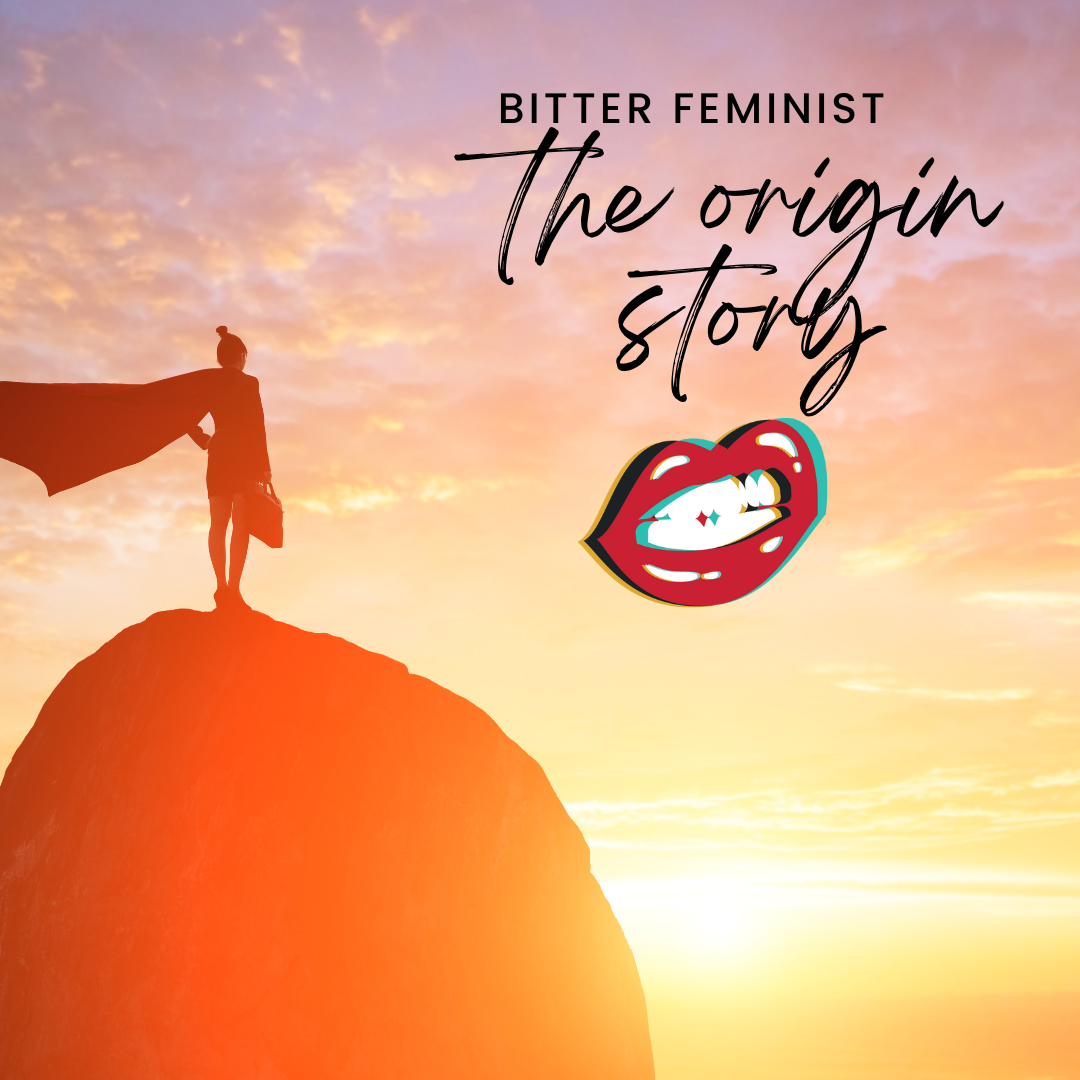 Not all heroes wear capes
Behind every great company (or Marvel hero), there is an origin story.  Although we don't consider ourselves heroes quite yet (but we're making strides every day, ya'll!), we actively seek to celebrate, empower, inspire women through our work with Bitter Feminist, which can definitely make us feel like super heroes at times. However, we have yet to order our capes ;)  In this short blog, we'll share more with you about how the Bitter Feminist brand came to be, introduce you to our team, and share some of our accomplishments and aspirations for the future. We hope you enjoy learning more about us--we appreciate your support! 
Who is Bitter Feminist? 
Bitter Feminist Cachaça is the flagship brand of Taburo Inc., a company inspired by two sisters, Abi and Lanre, and their (forcibly adopted) cousin, Tony. Abi, the older of the two sisters, is the President and CEO, Lanre is the Chief Operations Officer, and Tony is the Chief Technology Officer and Director of Sales. Although we officially had our first Bitter Feminist product available for sale in April of 2022, the Bitter Feminist dream was first conceived in January 2021 during a casual conversation among friends. 
How did it start?
Once upon a time, on a day just like any other, in a virtual space far far away, we were in a group chat, with a close group of our friends engaged in our regular (and often hilarious) banter that is the glue to our friendship. Being the change making lippy ladies that we are, these conversations often steer toward topics such as culture, gender, race dynamics and inequalities. On this particular day, we were scoffing at the narrow view of what a woman should or shouldn't aspire to be and how that colors our also narrow understanding of feminism.  Yes– we are also nerds. And as I said, these conversations are often laced with hilariousness–case in point in the following back and forth conversation that really started it all:
Friend 1 shares a social media post, the gist of which is that a woman was asked to remove her best friend from being her maid-of-honor because the groom-to-be felt that she was a "bitter feminist" who can't keep a man. 
Friend 1: Proceeds to jokingly add, "Once I marry, I'm ditching y'all bitter folks." 
Abi : "Bitter Feminist…that's a great title for a rock band" (…yes folks, we could have been a rock band!)
Friend 1: retorts "They will not play at my wedding."
Lanre: "I'll Join the band, Abi" (with no idea the adventure Abi was about to take us on)
Friend 2: "Then I guess you won't be attending the wedding either!"
All:  Lots of laughter emojis and lol's at the hilarious absurdity of it all
Lanre: Shares a post about how women's dresses used to have pockets but that these were eventually phased out so women could prove that they were not witches carrying spells and ill-intentions. The post ends with " this is why women love pockets in shirts and dresses now. We can carry our spells and curses without purses and you won't see us coming". 
Abi: "I'm not down with this witchy gender bias…so men can be warlocks and such but women cannot be witches…now I am really a bitter feminist."
PAUSE for dramatic effect . . .
Abi: "You know, come to think of it, bitter feminist might be a good name for a drink…it would be a great name for an alcoholic drink and the packaging could have cool facts or interesting stories such as the one about the pockets…and apparently the fact that all witches are apparently men with pockets."
And there you have it folks. The rest, as they say, is history. What began as a lighthearted conversation about a topic near and dear to our hearts, became the beginning of Bitter Feminist Cachaça, now an award-winning spirit in over 23 states and growing, with a supportive and growing community, and what we hope is a movement in the making.
What is Bitter Feminist's mission?
Several conversations later, Bitter Feminist was born, with a mission to "Unapologetically celebrate Bitter, Mouthy women everywhere". We wanted to shift the narrative of bitterness by drawing attention to the stories of women who became mouth pieces for change, and becoming a platform for the celebration of what women have accomplished, particularly women of color. We want to encourage everyone to #GetLippy about the status quo to become future vehicles of change.
As we share stories of women from around the world, in all walks of life, we invite others to join the celebration, bringing their stories to the forefront so future generations of women can be empowered and inspired by the sheer courage and creativity in their DNA. 
What inspires Bitter Feminist?
Abi
I love the continual discovery of stories of women I never knew about before starting this company. I keep digging deeper and discovering more, discovering more and more inspiration.
Lanre
Since starting the brand, I continue to be inspired and motivated by the people who get excited to hear the stories we share. It's a reminder that there is a hunger to know more, and we are doing good things.  
Tony
I really enjoy getting to work with people I love on something I believe in and inspires people. Our product is also pretty cool. The journey it took to conceptualize, design and create our drink feels magical. We have such a strong team supporting our vision. 

What are Bitter Feminist's favorite cocktail recipes so far?
Abi
I love trying all the recipes–our Cachaça is so versatile-it's fun to experiment and be creative with what we put forward. My favorite recipe so far is the Brazilian buck. I love ginger ale and the Cachaça pairs so well with it.
Lanre
There are so many good recipes, so it's hard to choose just one–I would have to go with the Brazilian Sunrise. It's delicious and easy.
Tony
I'm a big fan of the classic Caipirinha. It's really refreshing-- the muddled sugar and lime truly unlocks the Cachaça.

Bitter Feminist's Accomplishments 
Since Bitter Feminist Cachaça hit the market in April 2022, we are the proud recipients of multiple awards in spirit competitions, the first of which was a bronze medal in the LA Spirits competition–giving us our first official confirmation that what we believed was true– we really had a good product. It's one thing to believe you have something good, it's another for knowledgeable people in the field to agree. We've gone on to win several other awards including gold for taste, bottle design, branding and consumer appeal.  We are slaying, ya'll.
The most gratifying part of our journey has been interacting with people in person or at events and expos who have tried or are trying our products for the first time. We love having the opportunity to talk to people, hear how much they love our logo (Lippy), and how they want to share our mission with the women (and girls) in their lives. 
We were unsure how our name, Bitter Feminist, would be received, so it is gratifying and re-assuring that the lippy babes really seem to be identifying and relating to it. It's perhaps equally gratifying when our lippy men friends also get stoked about the brand or we see them sporting our merchandise and apparel.
What 's next for our heroes?
We want to continue to expand the reach of the movement behind the brand, not just increase sales. The largest part of our vision expanding the movement internationally such that women are celebrated on a regular basis, with no restrictions, everywhere. We also hope to engage people in this celebration, whether or not they are consumers of alcohol. Our line of merchandise and plans for non-alcoholic products, will hopefully help us welcome people worldwide to be a part of this movement, whether they indulge in alcohol or not. 
We have also begun and plan to expand our support of not-for-profit organizations that also seek to empower girls to aspire and to thrive. To name a few: Black Girls' Film Camp, Tri-Latino, Malala Fund, SimiSleighs Foundation (learn more on our website). We invite you to learn more about these organizations and us as we continue in this journey.
We know one thing is for certain--our origin story has only just begun, and we have much more to be written. Stay tuned, ya'll!  More from us soon.

-BF